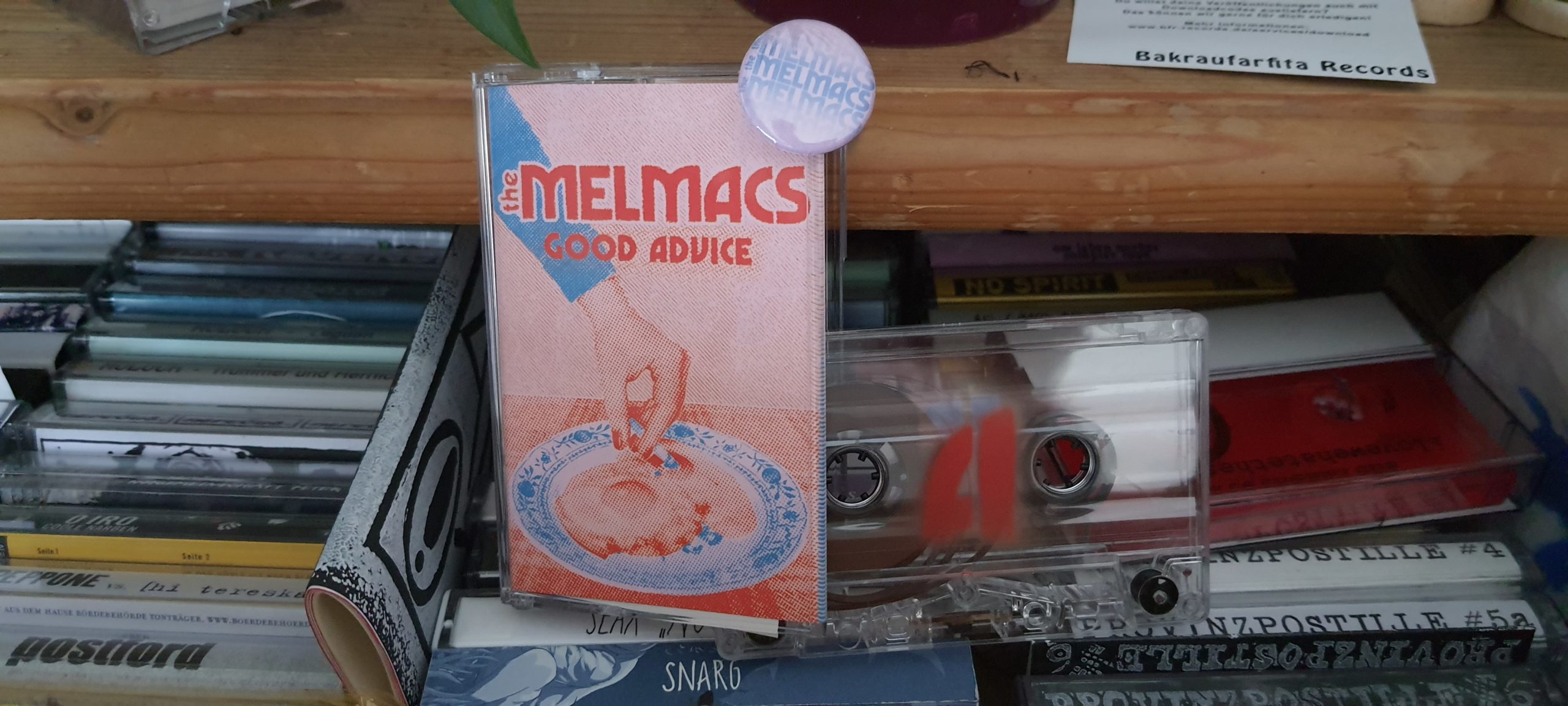 Zwischen Rockpop (ich hab keine Ahnung, wie man das nennt) und Poppunk schwelgen die the Melmacs in sehr fein produzierten Songs.
Hits sind, meiner Meinung nach, "saturday night" und "planet melmac". Die beiden Songs veranschaulichen sehr gut die Herangehensweise der Band.
Während "saturday night" eine ganz wundervoll melancholischen Basslauf hinter extrem repetitiven Lyrics versteckt, kommt der "planet melmac" daher, als wäre er aus einem 60er Jahre Film gefallen.

Die Band aus Leipzig gibt es noch nicht gar so lang.Scheint aber einen maximal kreativen Lauf zu haben. Kann man ja auch ganz gut anhand des Videos sehen, Zitate fallen ihnen auch nicht schwer.

Das ist ziemlich kurzweilig. Und ohne diese Nummern, die immer mal eingestreut sind, würde mir der doch sehr poppige Sound leicht durchrutschen. Da bleibt wenig hängen, wenn da… ja wenn da nicht….
Also: gut!
Kaufen. Tape gibt es mit Button und einem anderen Cover als die LP.
Hier und hier.
Selbstverständlich erschienen für den Garant der punkig guten Laune: Bakraufarfita. V.Ö. am 30.09 (und ich habs geschafft, rechtzeitig, vuhou!). Tapelabel ist Tape or die. LP-Coop mit Wanda Records.

Eigenbeschreibung noch hintendran:
The Melmacs give you top notch PowerPop-Punk, combining jab jab guitars with a jub jub keyboard, pow pow drums and a boomboom bass that will butter your parsnips! A terrific potpouri, very nice, very evil, stabbing you in the back, blowing out your earwax, rising the sun with it's bare hands. Helmets and slippers required – Welcome to Planet Melmac!

UPCOMING SHOWS:
———————-2022———————-
15.09.2022 – München, Feierwerk w/ Kotzreiz, Pestpocken
17.09.2022 – Stuttgart, Juha West w/ Kotzreiz, Pestpocken
18.09.2022 – Göttingen, Musa w/ Kotzreiz, Pestpocken
03.10.2022 – Leipzig, Manfreds w/ Missstand
11.11.2022 – Dresden, Chemiefabrik w/ Pissed Ones, Strg+Z
18.11.2022 – Bautzen, DIY w/?
19.11.2022 – Erfurt, Tiko w/?
02.12.2022 – Hamburg, Indra Musikclub w/?
03.12.2022 – Hannover, Monster Records, w/?
———————-2023———————-
06.01.2023 – Berlin, Schokoladen, w/The Not Amuesd
07.01.2023 – Jena, Alster (Kneipe)
28.01.2023 – London w/ The Speedways