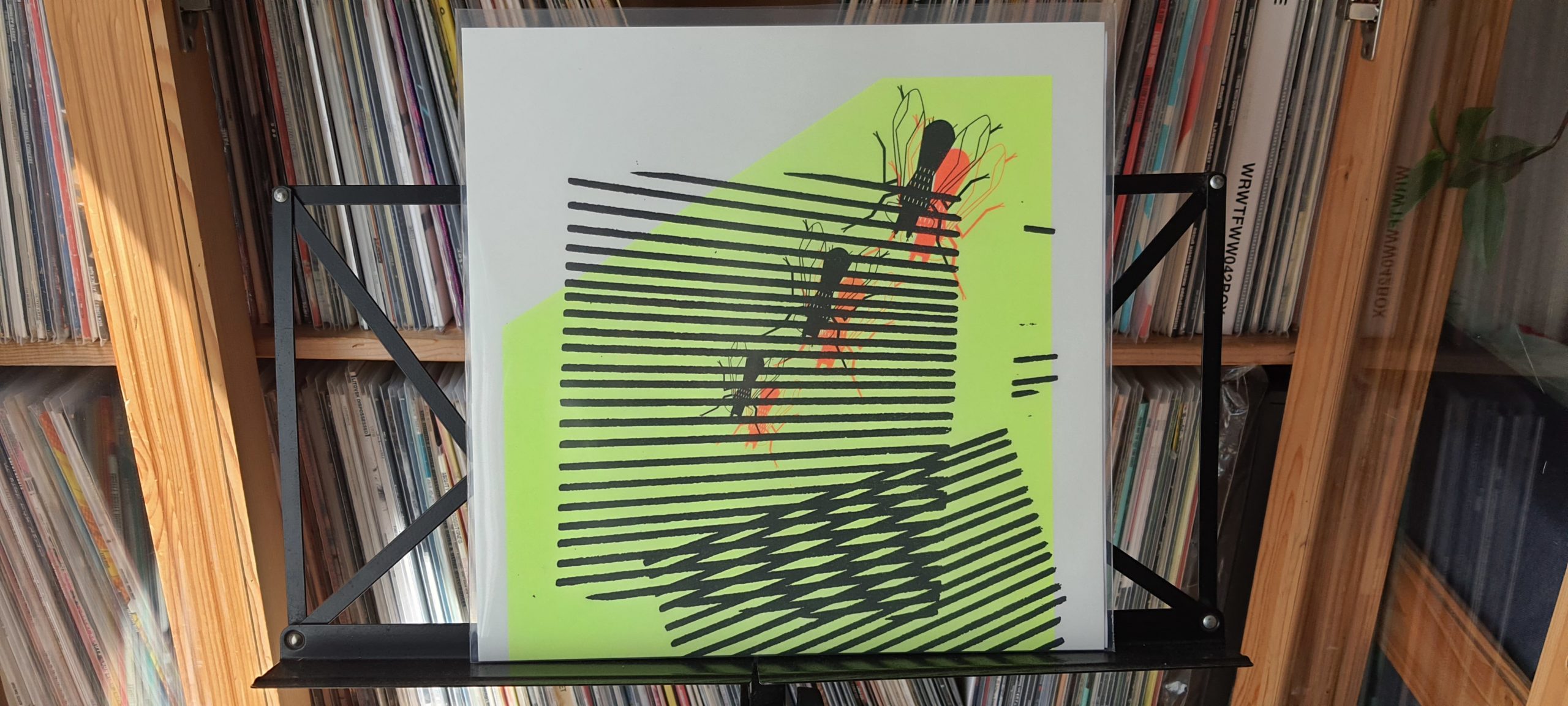 Ich habe total gefreut zu hören, dass I Am The Fly eine Platte herausbringen!
Mega-Bandname, fetter Sound, Weirdo-(Zwei-Fliegen)-Orgel-Core mit hardcore-geile Hooklines.
Vorfeude also auf 20 Songs und 33 Minuten Spielzeit, oder so.
In die Hand bekomme ich ein gesiedrucktes Cover, welchem der 7inch nicht ganz unähnlich ist.
Sie legen los mit "Anhedonia", einem etwas zurückgenommenen Track, der nicht gleich so fetzte, wie die 7inch einstmals.
In Songs wie "Biomass" oder "The ugliest Part of your Body is your Brain" kriegt man die Sozialkritik as der Sicht einer Fliege um die Ohren gehauen.
Tatsächlich würd sagen, dass bei I am the Fly eine Null-Veränderungs-Strategie Teil eine Plans ist. Der Sound ist exakt so geblieben wie auf der selbstbetitelten 7inch. Kleine Veränderungen passieren beiläufig mehr musikalischen Bereich, dass das ganze Songwriting, die Hooks irgendwie dystopischer wirken. Insgesamt etwas nachdenklicher, ncht ganz so tanzbar und doch hat es diese geniale Zappeligkeit, weil die Drummaschine dann doch ein recht hohes Tempo ballert.
Die Orgel schwurgelt (ja, da hab ich nun ein Wort erfunden) der Bass hat die geilen, dengelnden Riffs, was zusammen wieder ziemlich fräsende  Melodien hervorzaubert.


Ich hoffe, die beiden Fliegen mall auf einem Livekonzert geniessen zu können; und auch, dass die Orgel nicht zu laut wummert, das hatte ich neulich mal, das war schade. Egal für hier. Superknaller 6 Song EP, einseitig bespielt, auf der Rückseite eine Fliege im Siebdruck.
Bei der Band direkt zu erstehen, einfach anschreiben, das Teil gibt es zu einem echt fairen Kurs. 150 Stück gibt es.
Klar. Bandcamp noch: