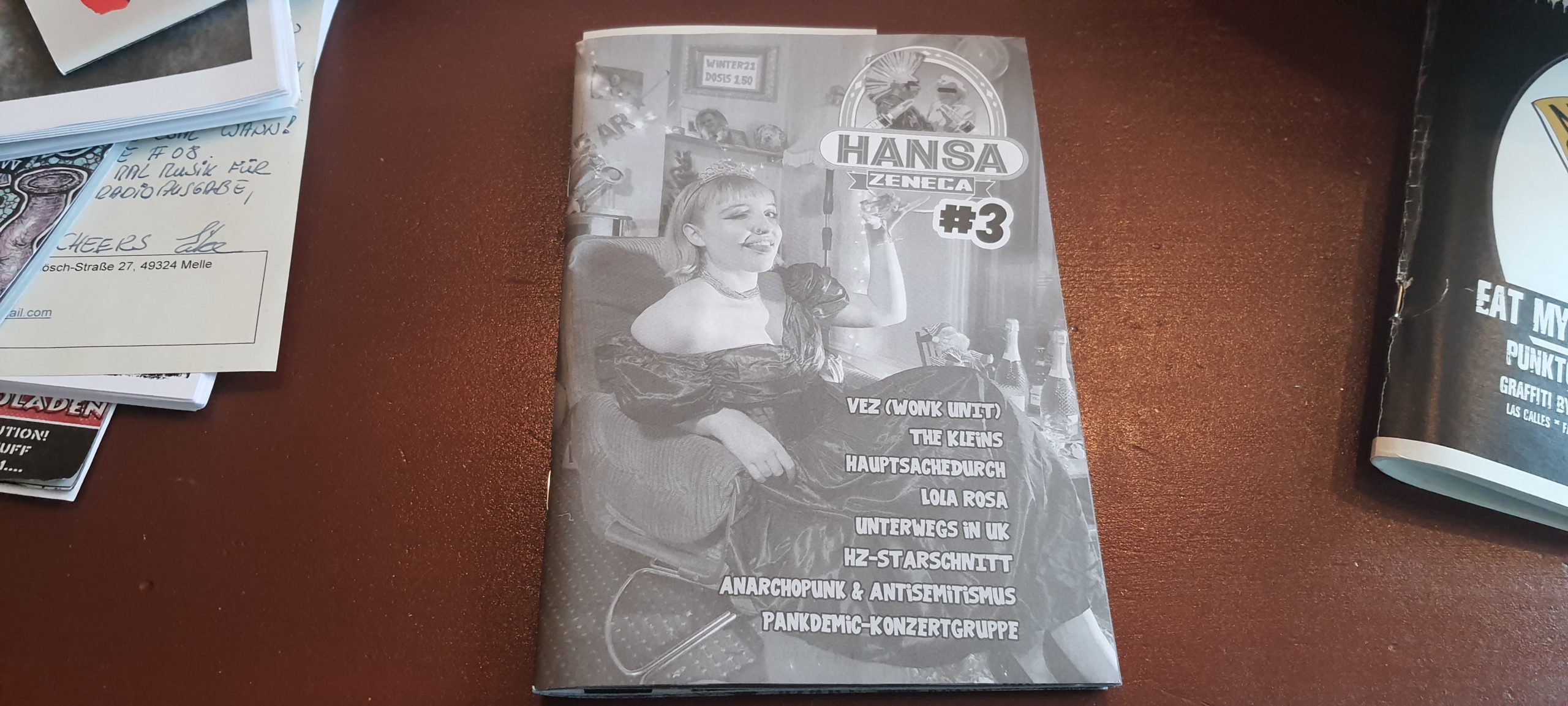 Mit dem Hansa Zeneca Numero 3 hab ich mir etwas Zeit gelassen. Habs einfach… ach Mensch, der Stapel wird immer größer und größer. Und ich lieb doch diese Zines. Und jetzt kann man dieses Heft nicht mehr unterscheiden von den andern: es ist nämlich wieder in A5 und keine Zeitung mehr, wie noch Ausgabe 2.
Zu Beginn möchte man mich mit einem Scherz für den Winter, einer CD-Beilage, cachen. Die kommt vom Lieblingspunklabel Bakraufarfitara. Mit dieser CD-Beilage geht dein CD Player in jedem Fall kaputt, dafür hält er das Bier schön warm; von unten. Immerhin: sie bieten Ersatz an.
Werbung von Audiolith weisen klar dahon, dass man sich nun den schönen Druck bezahlen lässt durch Commercials, damit der Preis des Heftes schön tief bleibt für den Konsumenten. Stimmt doch so 😉
The Kleins haben eine CD-Beilage beigesteuert. Die müsst ihr zuerst einlegen, sonst: siehe oben. Wenn nicht die Musik bereits eure Ohren geschrottet hat. Gibt es bei RilRec.

Es war wohl vorerst mal die letzte Ausgabe, ein kleine Pause – hoffentlich keine Großen Ferien – soll kommen. Ist jetzt auch mal schnell der Grund, weswegen diese Worte ausreichen müssen als Kaufargument!
Gibt es bei Fire and Flames zu kaufen. Oder im Hauseigenen Shop Rilrec.