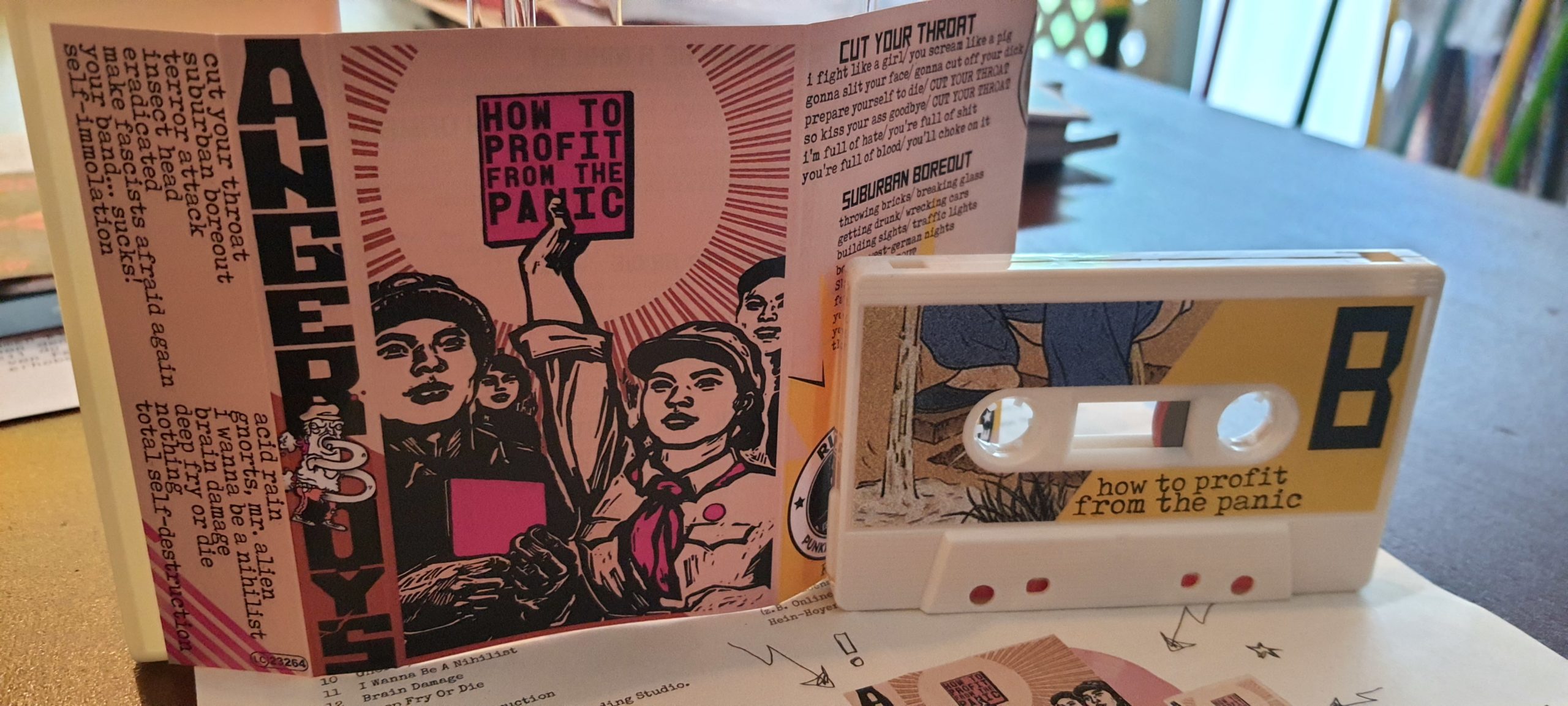 Die wütenden Jungs wollen mir jetzt also erklären, wie man aus Panik Profit ziehen kann. Nun denn, ich bin gespannt:
Als Erstes: es sind keine Jungs. Zumindest die Stimme und die Zurodnung ihres Namens fällt mir leicht, denn sie heisst Taylor Snifft. Yeah. Ihre Vocals sind eher hart angezerrt als versnifft, aber die ersten drei Töne reichen aus, um mal wieder mein Wohnzimmer zu zerkleinern. Zu "cut your throat" lässt sich das (er)leichternd machen.
i'm full of hate/ you're full of shit
youre full of blood/ you'll choke on it
Es folgen noch 14 (!!) weiter ins Hirn fräsende Punkhymnen in knappen 20 Minuten Spielzeit.
Die Angerboys aus Recklinghausen besingen in sehr kurzweiligen Songs das Tragen eines Insektenkopfs "insect head" ebenso die daraus resultierende Wirrnis, die im Herstellen von Crystal-Meth endet "self-immolation".
Klares Statement gegen Faschismus ist dann "make fascists afraid again"
fight the fascist scum
every single one
5 on 1/ i'm getting bashed
broken glass eats into my flesh
kicked in the face/ stabbed in the back
acht right now or youll be next
MAKE FASCISTS AFRAID AGAIN

Irgendwie kommt mir Nina Hagen in den Sinn. Die Sängerin hat auch dieses abgefahrene Ding in der Stimme. Ihr wisst, was ich meine, oder?
Insgesamt also sehr punkiger Polithardcore. Zackig, mal ein wenig hektisch, sehr angepisst, mit recht hoher Melodie-Dichte! Die Lyrics zwischen ernstgemeint und ernstgemeintem Nonsens.
Halt: die Musik macht ab und an auch mal einen extravaganten Schlenker. Bspw. in "terror attack" wird eine doch recht bekannte Melodei zerwurstet.
Wie man nun von der Panik profitiert ist am Ende wohl absolut unwichtig geworden. Nein, es ist ein richtig schlauer Plattentitel und ein super Artwork noch dazu.
Erschienen bei RilRec als kotzbeiges Tape. Und bei Plastic Bomb und No Front Teeth Records als rosafarbige LP. Erschienen im August 2021.